Now, This Is Fun
From DM Live - the Depeche Mode live encyclopedia for the masses
Jump to navigation
Jump to search
Now, This Is Fun

Song
Now, This Is Fun
By
Depeche Mode
Songwriter
Martin L. Gore
Working title
Reason For Fun
Produced by
Daniel Miller
Depeche Mode
Recorded at
Blackwing Studios (London)
Length (mm:ss)
3:27
4:45 (extended version)
Tempo
101 BPM
Time signature
4
4
Key
F♯ Minor
Engineered by
John Fryer
Eric Radcliffe
Photography
Brian Griffin
Calligraphy
Ching Ching Lee
Recorded
December 1981
Originally released
29 January 1982
Live performances as Depeche Mode
87 times

*

Total live performances
87 times

*
"Now, This Is Fun" is a song recorded by Depeche Mode during the production of the 1982 album A Broken Frame. It was released as a B-side on the "See You" single on 29 January 1982.
Notes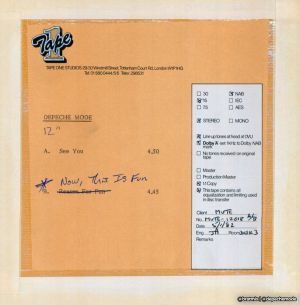 In the 1982-01-21 issue of Smash Hits, Andy Fletcher says:
"On the new B-side, 'Reason To Be' [working title, ed.], we tried to sound… really… mean! Didn't work though."
Lyrics
Now, This Is Fun
Here speaks the voice of reason
It's talking to me
Loud and clearly
And obviously
It's something to say

Here comes another sentence
It is relentless
It tries my patience
But nevertheless
It's for our concern

We can't see the benefits
So we'll ignore it
Or disobey it
And then we'll say that
This is fun

This is real fun
This is fun
Songwriter: Martin L. Gore
Publishing Information: ©1982 Grabbing Hands Music Ltd/EMI Music Publishing Ltd. All rights reserved.
Live performances
Main article: Available recordings of "Now, This Is Fun"
Main article: List of dates where "Now, This Is Fun" was played