1986-05-13 Friedrich-Ebert-Halle, Ludwigshafen, Germany/Source 1
From DM Live - the Depeche Mode live encyclopedia for the masses
Jump to navigation
Jump to search
Notes
A very good audience recording. The majority of this tape is better sounding than fallenqueen's transfer of his low-generation copy; some tracks from the second half sound somewhat better on his copy, but I decided to just torrent this one as-is instead of make a mish-mash of the two recordings. It's quite possible that during the generation of fallenqueen's tape, some EQ was applied along the way to bump up the treble a bit for the tracks that needed it. This 1st gen tape copy sounds much more neutral and more like Elly's other recordings from this tour.
Christmas Island is missing the first few seconds and Stripped is missing 10 seconds from the middle of the track, but otherwise this is a complete recording. There are a few talkers and singers around the taper, but they usually aren't too distracting. During Photographic, Alan screws up the usual melody at the end of the song and improvises instead - nice save!
Many thanks to Falko for generously lending me a batch of five low-gen cassettes of Elly's recordings from the Black Celebration tour to transfer.
Listen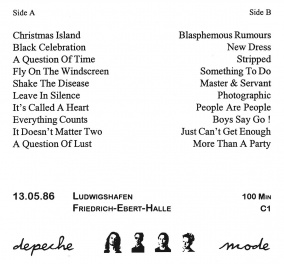 You can listen to this entire recording below.
Track list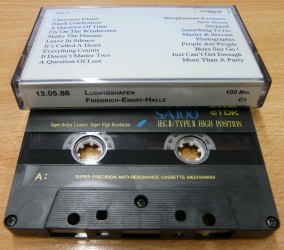 Lineage
unknown recording device + mics -> unknown master cassette(s) -> unknown deck(s) used for copy -> first generation TDK SA100 high position cassette, 1990 - 1991 stock -> Nakamichi Dragon cassette deck, serviced and upgraded (details) -> Blue Jeans Cable LC-1 8-foot RCA cable -> Creative Sound Blaster ZxR (RCA Line In) -> Adobe Audition CC 2015 (WASAPI 32-bit / 88.2 khz) -> normalized to -0.1dB and any DC bias removed -> WAV (32/88.2) -> tracked using Audacity 2.1.2 -> WAV (32/88.2) tracks -> FLAC 16-bit 44.1khz using FLAC 1.3.1 64-bit (level 8 compression) and foobar2000 v1.3.9 with its Resampler (SoX) component v0.8.3 (best quality), dithering enabled
Generation: first
Taper: Elly Apfel
Transfer: DMLiveWiki
auCDtectTaskManager log included
Download