1986-05-20 Münsterlandhalle, Münster, Germany/Source 1
From DM Live - the Depeche Mode live encyclopedia for the masses
Jump to navigation
Jump to search
Notes
A very good audience recording. The first few seconds of Christmas Island are missing, the first several seconds of A Question Of Lust are missing due to tape flip and about 20 seconds toward the end of the song are also missing for some reason. This is better sounding than fallenqueen's transfer of his low-generation copy; there is less noise, better defined bass, and there is no high pitched noise on the second half of the tape. There are also about two minutes more of audience noise retained on this tape. Leave In Silence is rather distorted during the beginning and a couple other parts later in the song - it would seem that the bass overpowered Elly's recording equipment. There is similar distortion for some other tracks, but it is not too detracting from the quality of the tape.
Many thanks to Falko for generously lending me a batch of five low-gen cassettes of Elly's recordings from the Black Celebration tour to transfer.
Listen
You can listen to this entire recording below.
Track list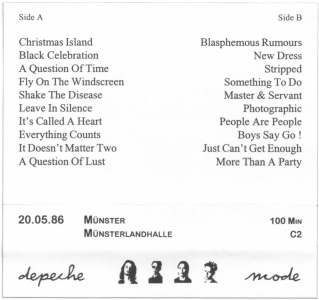 Lineage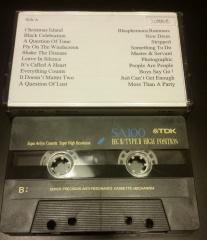 Incomplete audience recording
unknown recording device + mics -> unknown master cassette(s) -> unknown deck(s) used for copy -> second generation TDK SA100 high position cassette, 1990 - 1991 stock -> Nakamichi Dragon cassette deck, serviced and upgraded (details) -> Blue Jeans Cable LC-1 8-foot RCA cable -> Creative Sound Blaster ZxR (RCA Line In) -> Adobe Audition CC 2015 (32-bit / 88.2 khz) -> hard limited very loud mic bumps, normalized to -0.1dB and any DC bias removed -> WAV (32/88.2) -> tracked using Audacity 2.1.1 -> WAV (32/88.2) tracks -> FLAC 16-bit 44.1khz using FLAC 1.3.1 64-bit (level 8 compression) and foobar2000 v1.3.8 with its Resampler (SoX) component v0.8.3 (best quality), dithering enabled
Generation: second
Taper: Elly Apfel
Transfer: DMLiveWiki
Cassette tape photos, tape inlay scan, and auCDtectTaskManager log included
Download