1986-05-25 Walter-Köbel-Halle, Rüsselsheim, Germany/Source 1
From DM Live - the Depeche Mode live encyclopedia for the masses
Jump to navigation
Jump to search
Notes
A good sounding audience recording. It's rather hissy. Everything Counts seems odd to me - the quality overall is better than the rest of the recording, plus the transition between audience noise is not seamless. It's also much hissier than the rest of the recording. I checked recordings of other concerts around this date, but none matched Dave's shouts; at first I thought it might be from 1986-05-24 Rotterdam as a couple of the shouts and overall quality matched, but then the final shout did not match. Ultimately, I don't know how to explain the quality difference of this track.
Other than the first few seconds of Everything Counts and More Than A Party being missing, this is a complete recording.
Listen
You can listen to this entire recording below.
Track list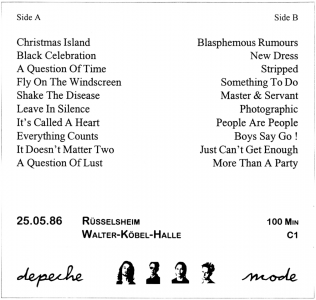 Lineage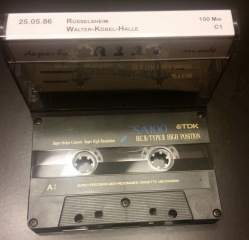 Incomplete audience recording
Lineage: unknown recording device + mics -> unknown master cassette(s) -> unknown deck(s) used for copy -> first generation TDK SA100 high position cassette, 1990 - 1991 stock -> Nakamichi Dragon cassette deck, serviced and upgraded (details) -> Blue Jeans Cable LC-1 8-foot RCA cable -> Creative Sound Blaster ZxR (RCA Line In) -> Adobe Audition CC 2015 (WASAPI 32-bit / 88.2 khz) -> normalized to -0.1dB and any DC bias removed -> WAV (32/88.2) -> tracked using Audacity 2.1.1 -> WAV (32/88.2) tracks -> FLAC 16-bit 44.1khz using FLAC 1.3.1 64-bit (level 8 compression) and foobar2000 v1.3.9 with its Resampler (SoX) component v0.8.3 (best quality), dithering enabled
Generation: first
Taper: Elly Apfel
Transfer: DMLiveWiki
Cassette tape photos, tape inlay scan, and auCDtectTaskManager log included
Many thanks to Falko for generously lending me a batch of five low-gen cassettes of Elly's recordings from the Black Celebration tour to transfer.
Download