1986-08-04 Arènes de Frejus, Fréjus, France/Source 2
From DM Live - the Depeche Mode live encyclopedia for the masses
Jump to navigation
Jump to search
Notes
A very good audience recording, but with a fairly loud crowd. There is some distortion at times. This is sourced from a second-generation tape and unlike Source 1, contains Christmas Island in its entirety. This seems to be a complete recording with no music lost at all.
Compared to Source 1, this second generation tape seems to have less distortion and less harsh treble (I'd guess that Source 1 had some equalization applied to it), along with better bass response. Source 1 is supposedly sourced from the master tapes, but ultimately it's up to you to pick which source sounds better to your ears.
Thanks to Falko for lending me the cassettes to transfer.
Listen
You can listen to this entire recording below.
Track list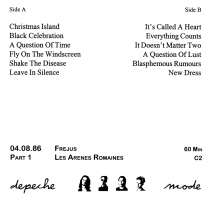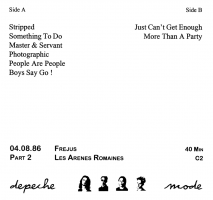 Lineage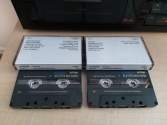 Complete audience recording
Sony cassette recorder (unknown model) + unknown mics -> second generation TDK SA60 high position cassettes, 1990 - 1991 stock -> Nakamichi Dragon cassette deck, serviced and upgraded (details) -> Blue Jeans Cable LC-1 8-foot RCA cable -> Creative Sound Blaster ZxR (RCA Line In) -> Adobe Audition CC 2015 (32-bit / 88.2 khz) -> sides joined seamlessly, normalized to -0.1dB and any DC bias removed, AQOT and forward normalized to -0.1dB again to maintain consistent volume throughout the recording -> WAV (32/88.2) -> tracked using Audacity 2.1.2 -> WAV (32/88.2) tracks -> FLAC 16-bit 44.1khz using FLAC 1.3.1 64-bit (level 8 compression) and foobar2000 v1.3.10 with its Resampler (SoX) component v0.8.3 (best quality), dithering enabled
Generation: second
Transfer: DMLiveWiki
Cassette tape photos, tape inlay scans, and auCDtectTaskManager log included
Download