1987-10-25 Olympiahalle, Munich, Germany/Source 1
From DM Live - the Depeche Mode live encyclopedia for the masses
Jump to navigation
Jump to search
Notes
A very good audience recording. Clear and direct sounding, with nearly zero crowd noise. Pimpf is missing the first half or so. The first few seconds of The Things You Said are missing due to tape flip. The first few seconds of Black Celebration are also missing. There is an analog tape flaw toward the end of Pleasure, Little Treasure; a higher-generation copy of this recording has the same flaw, so it's likely to be an issue on the master tape. Channel balance varies throughout the recording. Certain songs, Stripped for example, have some distortion, likely due to microphone overload or tape saturation, or a combination of both.
There was an extremely loud ringing noise around 15khz ranging from The Things You Said through the middle of Pleasure, Little Treasure which was able to be cleanly removed using Audacity's spectral edit multi-tool. Other than that noise removal, hard limiting of a couple microphone bumps, and normalization, no further edits to the audio were required.
Note that an extended version of People Are People was performed, adding an extended middle break. This version was performed for the first seven concerts of the tour through 1987-10-30 Milan, after which the "regular" shorter version is played for the entire tour, with one exception. This extended version is played only once more on the second of three nights in Paris on 1987-11-17.
Alan begins playing too early a couple times during the beginning of Master And Servant.
Many thanks to Falko for generously lending me this tape to archive, and thanks to Elly Apfel for recording this concert.
Listen
You can listen to this entire recording below.
Track list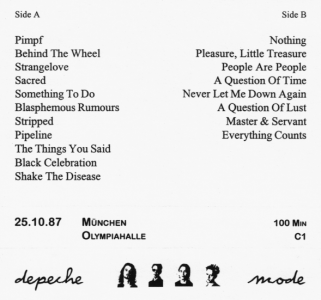 Lineage

Sony WM-D6C + unknown mics -> unknown master cassette(s) -> unknown deck(s) used for copy -> first generation TDK SA100 type II cassette tape, 1990 - 1991 stock -> Nakamichi MR-1 professional discrete head cassette deck (playback azimuth and pitch optimized) -> Mogami 2534 XLR to TRS cables -> Focusrite Scarlett 2i2 3rd gen USB audio interface -> WAV (32/88.2) -> recorded in Audacity 3.0.2 using WASAPI input; ringing noise eliminated, hard limited two mic bumps, recording sections (at tape flips / between pauses) normalized to -0.1dB and any DC offset removed, track splits -> WAV (32/88.2) -> downsampled to FLAC level 8 (16/44) using foobar2000 v1.6.6, FLAC 1.3.3 64-bit, and foobar2000's Resampler (SoX) component v0.8.3 (best quality), no dithering
Generation: first
Taper: Elly Apfel
Transfer: DMLiveWiki on June 6, 2021
Cassette tape photos, tape inlay scan, and auCDtectTaskManager log included
Download