1987-11-04 Grugahalle, Essen, Germany/Source 2
From DM Live - the Depeche Mode live encyclopedia for the masses
Jump to navigation
Jump to search
Notes
A very good audience recording. The first few seconds of Pimpf are missing, and Dave's "thank you" after Black Celebration is cut off due to tape flip, but otherwise no music is missing. Bass can be slightly distorted depending on the song. There are a few small glitches during the beginnings of Behind The Wheel and Strangelove.
Many thanks to Falko for generously lending me this tape to archive, CPR for bringing the tape to me, and to Elly Apfel for recording this concert.
Listen
You can listen to this entire recording below.
Track list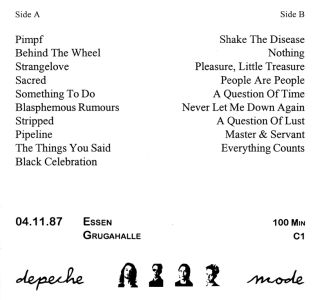 Lineage

Sony WM-D6C + unknown mics -> unknown master cassette(s) -> unknown deck(s) used for copy -> first generation TDK SA100 type II cassette tape, 1990 - 1991 stock -> Nakamichi MR-1 professional discrete head cassette deck (playback azimuth optimized, and playback speed adjusted using pitch control) -> Mogami 2534 XLR to TRS cables -> Focusrite Scarlett 2i2 3rd gen USB audio interface -> WAV (32/88.2) -> recorded in Audacity 3.2.1 using WASAPI input; stereo channels phase aligned, limited some loud peaks, channels independently normalized to -0.1dB and any DC offset removed, track splits -> WAV (32/88.2) -> downsampled to FLAC level 8 (16/44) using foobar2000 v1.6.13, FLAC 1.4.1 64-bit, and foobar2000's Resampler (RetroArch) component at "Highest" quality, dithering enabled
Generation: first
Taper: Elly Apfel
Transfer: DMLiveWiki on October 23, 2022
Cassette tape photos, tape inlay scan, and auCDtectTaskManager log included
Download