1987-12-18 Madison Square Garden, New York, NY, USA/Source 2
From DM Live - the Depeche Mode live encyclopedia for the masses
Jump to navigation
Jump to search
Notes
A good audience recording. Noisy crowd around the taper at times, and somewhat muffled and distant sounding. Pimpf is missing two-thirds of the song, and Shake The Disease is missing about half the song.
Many thanks to James K. for providing this cassette for archival.
Listen
You can listen to this entire recording below.
Track list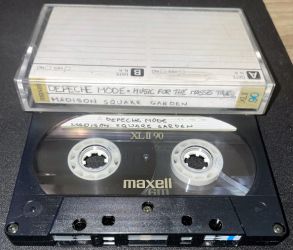 Lineage
unknown taper and equipment -> second-generation Maxell XLII 90 high position cassette -> Nakamichi MR-1 professional discrete head cassette deck (playback azimuth optimized) -> Mogami 2534 XLR to TRS cables -> Focusrite Scarlett 2i2 3rd gen USB audio interface -> WAV (32/88.2) -> recorded in Audacity 3.2.3 using WASAPI input; channels normalized to -0.1dB and any DC offset removed, track splits -> WAV (32/88.2) tracks -> downsampled to FLAC level 8 (16/44) using foobar2000 v1.6.14, FLAC 1.4.2 64-bit, and foobar2000's Resampler (RetroArch) component at "Highest" quality, dithering enabled
Generation: second
Transfer: DMLiveWiki on January 2, 2023
Cassette tape photo & auCDTectTaskManager log included
Download