1987-1988 Music For The Masses tour backing tapes
From DM Live - the Depeche Mode live encyclopedia for the masses
Jump to navigation
Jump to search
Notes
A cassette tape of the backing tapes from the 1987-1988 Music For The Masses Tour as well as the light-show cue / tour rehearsal tape from the 1986 Black Celebration Tour were sold on eBay in 2011 by a New Zealand eBay seller. That seller purchased a leather jacket from the lighting director of the 1990 World Violation Tour, Jane Spiers, and the tapes were included with the jacket. View the original listing here (on archive.org).
The complete track listing is unknown. 'Pipeline' is presumably included, though 'Never Turn Your Back On Mother Earth' is likely not included since it was not played until the final two legs of the tour, and the tape is labeled as "Sept 87". The backing sequence for that track sourced from a ZIP disc is available to listen to below, however. Short snippets of several tracks were uploaded to DM_Best_Bits' SoundCloud (now an empty account) and are available to listen to below. Short excerpts of several tracks from tour rehearsals of the Black Celebration tour were also uploaded along with these snippets, and you can listen to those at 1986-03-00 Black Celebration Tour Rehearsals, Nomis Studios, London, England, UK. The rehearsals are probably from March 1986 given that 'Here Is The House' is part of the rehearsal.
Please note that DM Live does not have any more audio from these backing tapes other than what appears on this page, since all of these excerpts were publicly posted on Soundcloud in the past. Furthermore, it is not known who possesses a copy the full audio of these backing tapes.
On a related note, 90 second excerpts from every track of the 1990 World Violation tour backing tapes are available for listening, and furthermore 90 second excerpts of six tracks from the 1993 Devotional tour backing tapes are also available for listening.
Excerpts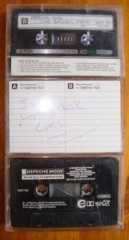 Fan recreations