1988-02-12 Johanneshov Isstadion, Stockholm, Sweden/Source 3
From DM Live - the Depeche Mode live encyclopedia for the masses
Jump to navigation
Jump to search
Notes
A good sounding audience recording. The recording level seems to have been set too high by the taper, so some of the louder tracks have some distortion. The sound is somewhat reverberated and there is some crowd noise, but it is not an obscene amount. It sounds like a few seconds of the beginning of Pimpf are missing, and a few seconds from the beginning of Pipeline and Never Let Me Down Again are missing as well due to tape flips. I have repaired the fade between tapes toward the end of Black Celebration as best as I could using a gain envelope, and I did the same with a left channel dropout at the beginning of A Question Of Time. The recording has been speed-corrected as well to match the official "101" release.
Many thanks to darkdevoted for the cassette transfer and to Andreas (depechemodesweden) for lending him the cassettes. The tapes were purchased in a Stockholm record store, and seem to be of relatively low generation - probably AU2 or AU3.
Listen
You can listen to this entire recording below.
Track list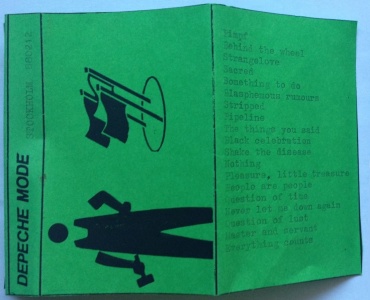 Lineage

unknown taper and equipment -> Sony HF-ES90 normal position cassette, 1986 - 1987 Europe stock, low generation -> Technics RS-AZ7 cassette deck -> Yamaha RX-V1300RDS receiver -> Roland R-05 (24/48) -> WAV (24/48) -> in Adobe Audition CC 2015: normalized to -3.0dB and any DC bias removed, applied gain envelopes to repair fade at Black Celebration and left channel dropout at the beginning of A Question Of Time, slowed down 2.0% to match "101" audio speed, normalized to -0.1dB -> WAV (24/48) -> tracked using Audacity 2.1.2 -> WAV (24/48) tracks -> FLAC 16-bit 44.1khz using FLAC 1.3.1 64-bit (level 8 compression) and foobar2000 v1.3.9 with its Resampler (SoX) component v0.8.3 (best quality), dithering enabled
Transfer: darkdevoted
Cassette photos and auCDtectTaskManager log included
Download