1988-05-08 Salt Palace, Salt Lake City, UT, USA/Source 1
From DM Live - the Depeche Mode live encyclopedia for the masses
Jump to navigation
Jump to search
Notes
A barely listenable recording - however, this is a previously uncirculated recording, so this will be of interest to collectors. This recording is confirmed to be from Salt Lake City because Dave greets the audience with "how you doing Salt Lake City" at the beginning of Strangelove. There is heavy distortion throughout the recording, as well as somewhat noticeable wow & flutter. Pimpf is missing the first few seconds, and Sacred, Black Celebration, Shake The Disease, Never Let Me Down Again, and possibly other songs have small missing segments.
The right channel of this tape was so heavily distorted that I opted to drop the channel entirely and make this a dual-mono recording. It's a listenable recording, if you are so inclined, but it is not particularly enjoyable. Also, the tape's label indicates it was recorded with Dolby C noise reduction, but this transfer is a "flat" transfer without Dolby. The hiss is not too objectionable even without Dolby decoding.
Apparently, a fight broke out between Alan Wilder and Andy Fletcher during this concert, because Fletcher criticised Dave Gahan's performance. Steve Malins asked Wilder about it for his DM biography, and here is his response:
"Yes, that's true. I thought that was a bit rich coming from him, and a physical brawl did ensue between us. Punches were thrown, some landed, some missed and I heard that a few tears were shed. The worst thing was that we all had to go straight back on stage to play 'Just Can't Get Enough'."
Personally, I didn't notice any issues or shortcomings with Dave's vocals performance, but this is not exactly the best recording to judge performance with. It may also be that Fletch was critical of Dave's performance in some other way.
Never Turn Your Back On Mother Earth is a cover of a Sparks song and was performed for most of the final two legs of the "Music For The Masses" tour in place of "Pipeline". Find more information, other recordings, and the live sequence for the song here: Never Turn Your Back On Mother Earth
Orchestral Manoeuvres In The Dark was the support act. A partial audience recording of OMD's set from this concert was provided on another cassette and that recording will be made available on DIME.
Amanda E. generously provided this cassette and said that she received it from a fan, and she has no other details about the origins of this recording. Some songs titles weren't known by whoever wrote the details on the tape inlay - my favorite is "Stripppped" (note the 4 'p's there). Many thanks to Amanda E. for providing this cassette, along with scans of her ticket stub and some concert photos which are included with this audio, and are also available for viewing on the wiki at the main page for this concert.
Listen
You can listen to this entire recording below.
Track list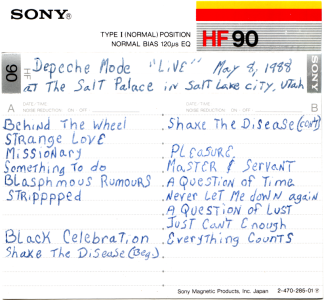 Lineage

unknown taper and equipment -> low-generation Dolby C-encoded Sony HF 90 normal position cassette, 1986 - 1987 US stock -> Nakamichi MR-1 professional discrete head cassette deck (Dolby not used; pitch and playback azimuth optimized) -> "Worlds Best Cables" 6-foot Mogami 2534 cables with Neutrik XLR and TRS plugs -> Focusrite Scarlett 2i2 3rd gen USB audio interface -> recorded at 32-bit 88.2kHz in Audacity 3.2.5 using WASAPI input -> in Audacity 3.2.5: extremely distorted right channel dropped, recording converted to dual-mono for compatibility, limit several loud peaks, normalized to -0.1dB and any DC offset removed -> WAV (32/88.2) tracks -> downsampled to FLAC level 8 (16/44) using foobar2000 v1.6.16, FLAC 1.4.2 64-bit, and foobar2000's Resampler (RetroArch) component at "Highest" quality, dithering enabled
Transfer: DMLiveWiki on March 8, 2023
Cassette tape photo, tape inlay scan, concert photos & ticket stub scan, and auCDTectTaskManager log included
Download