1993-06-30 Palais Omnisport De Paris Bercy, Paris, France/Source 1
From DM Live - the Depeche Mode live encyclopedia for the masses
Jump to navigation
Jump to search
Notes
An excellent sounding, complete audience recording.
I retransferred this tape with a Nakamichi Dragon, resulting in better bass response (extending down to 15hz now), less hiss (though this is a very hissy tape to begin with), and virtually zero additional wow & flutter added by the deck during playback. This version also has corrected lineage information thanks to darkdevoted; per his notes, the correct lineage is a third generation analog copy.
I retransferred and torrented this recording on November 14, 2015 in observance of the tragic attack that occurred in Paris on November 13, 2015. I hope everyone's spirit is brightened a bit by this great recording.
Listen
You can listen to this entire recording below.
Track list
Lineage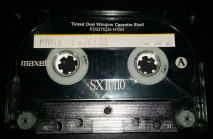 Complete audience recording
Lineage: unknown equipment -> ... -> third generation Maxell SX II 110 high position cassette, 1991 - 1993 stock -> Nakamichi Dragon cassette deck, serviced and upgraded (details) -> Blue Jeans Cable LC-1 8-foot RCA cable -> Creative Sound Blaster ZxR (RCA Line In) -> Adobe Audition CC 2015 (WASAPI 32-bit / 88.2 khz) -> slowed down 2.0% (Audition method, High precision), normalized to -0.1dB and any DC bias removed -> WAV (32/88.2) -> tracked using Audacity 2.1.1 -> WAV (32/88.2) tracks -> FLAC 16-bit 44.1khz using FLAC 1.3.1 64-bit (level 8 compression) and foobar2000 v1.3.9 with its Resampler (SoX) component v0.8.3 (best quality), dithering enabled
Taper: Laurent A.
Generation: third
Cassette tape photo and auCDtectTaskManager log included
Many thanks to Prodigy75 and Vince for supplying this tape.
Download