1993-10-19 Bradley Center, Milwaukee, WI, USA/Source 1
From DM Live - the Depeche Mode live encyclopedia for the masses
Jump to navigation
Jump to search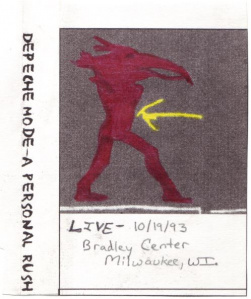 Notes
A very good sounding complete audience recording. Bass can be a bit overpowering and just a touch distorted at times, but otherwise this is a great recording. This concert ended after Enjoy The Silence; the second encore was not performed.
Note that the tape inlay included with this cassette marks noise reduction as having been used, but I compared this tape with and without Dolby B NR and it sounded significantly muffled with NR. This tape was transferred without any noise reduction.
Many thanks to Brad for sending over his tape of this recording, and to Erich for sending me his MP3 copy of his own tape copy and getting me in contact with Brad. Brad gave this bootleg the title "A Personal Rush", as can be seen on the scan of the tape's homemade artwork. I also tried to contact Atomic Records on Facebook to see if they might have the master tapes from any of their Depeche Mode recordings, but I haven't received any response so far.
Listen
You can listen to this entire recording below.
Track list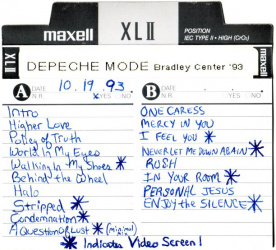 Lineage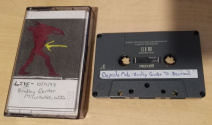 Complete audience recording
unknown taper and equipment (DAT recording) -> low-generation (1st gen?) Maxell XL-II 100 cassette (1992 - 1996 US stock) purchased at Atomic Records in Milwaukee -> Nakamichi Dragon cassette deck, serviced and upgraded (details) -> Blue Jeans Cable LC-1 8-foot RCA cable -> Creative Sound Blaster ZxR (RCA Line In) -> Adobe Audition CC 2015.0 (32-bit / 88.2 khz WASAPI) -> hard limited extremely loud bass at beginning of Higher Love to -3.0dB, then normalized the entire recording to -0.1dB and any DC bias removed -> WAV (32/88.2) -> tracked using Audacity 2.1.2 -> WAV (32/88.2) tracks -> FLAC 16-bit 44.1khz using FLAC 1.3.1 64-bit (level 8 compression) and foobar2000 v1.3.11 with its Resampler (SoX) component v0.8.3 (best quality), dithering enabled
Transfer: DMLiveWiki
Cassette tape photo, tape artwork and inlay scan, and auCDtectTaskManager log included
Artwork
Download