1994-03-26 Blaisdell Arena, Honolulu, HI, USA
From DM Live - the Depeche Mode live encyclopedia for the masses
Jump to navigation
Jump to search
Notes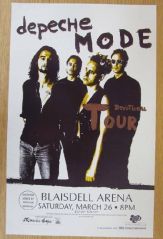 The second of two consecutive concerts in Honolulu during the 1994 Exotic Tour. This is the last concert of this tour to have Andrew Fletcher on keyboards; the remainder of the tour has Daryl Bamonte in his place due to Fletcher suffering from a nervous breakdown and not continuing with the remainder of the tour.
From Shunt Q&A: live - live albums / versions / performance:
How long did it take Daryl Bamonte to learn Fletch's keyboard parts when he took over during the second leg of the 'Devotional' tour?

While everyone else was sunning themselves on the beach and enjoying a well-earned rest, Daryl and I spent a week cooped up in a hotel room in Hawaii where I taught him the entire set. He subsequently played it perfectly for the rest of the tour - pretty good eh, considering he'd hardly ever played a keyboard before in his life.
Here is Daryl Bamonte's entry for the famous Devotional Tour diary, published in Bong magazine in 1994:
March 26th, HONOLULU: It went okay last night, but the strain is killing me. After pulling my hair out all week, I've now started punching myself in the head. Stress presents itself in funny ways.

March 27th, HONOLULU: The backstage run-through was better last night. The crew are being very encouraging. Anzac (Monitor Engineer) has told me that I CAN do it, so maybe I just might be able to pull this thing off.

March 30th, HONOLULU: Alan and I have finished rehearsals and things have worked out okay, apart from the fact that I have no hair left and a very sore head.
BONG #20, issued April 1994, reported:
"Martin's two year old daughter Viva made her debut in Honolulu, when she appeared on stage during 'A Question Of Time'. She had a great time singing along with dad and 'uncle' David in front of 10.000 people, and spent the rest of the song sitting at Martin's keyboard."
There was no support act.
Set list
Sources
Ticket