2005-12-11 KROQ Almost Acoustic Christmas, Gibson Amphitheatre, Universal City, CA, USA
From DM Live - the Depeche Mode live encyclopedia for the masses
Jump to navigation
Jump to search
Notes
Depeche Mode's second appearance during KROQ Almost Acoustic Christmas. Their prior appearance was during their 1998 The Singles Tour: 1998-12-12 KROQ Almost Acoustic Christmas, Shrine Auditorium, Los Angeles, CA, USA. This was night 2 of KROQ's event. Depeche Mode were the headline act. Other bands on this night included Coldplay, The White Stripes, Jack Johnson, The Bravery, Death Cab For Cutie, Hot Hot Heat and Nada Surf.
Many tracks were reworked as acoustic versions, so this recording is a must-have. The backing tape crashes during I Feel You and it takes a few minutes for the band to restart. Peter Gordeno plays a little bit of "God Rest Ye Merry Gentlemen" during Enjoy The Silence and Never Let Me Down Again. This concert also had the first performance of Shake The Disease by Depeche Mode since 1990, although Martin had performed the song in a similar acoustic rendition at every gig of his 2003 solo tour.
Andy and Martin also gave a very short interview for KROQ, backstage. Chris Martin of Coldplay, who performed before DM, said before their last song 'Fix You', "Please enjoy Depeche Mode and give them the respect they deserve as one of the forefathers of modern times". Comedian Andy Dick was in attendance.
Video
Set list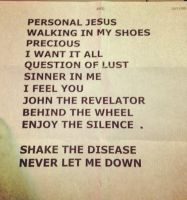 Sources