2009-07-31 Comcast Center, Boston, MA, USA
From DM Live - the Depeche Mode live encyclopedia for the masses
Jump to navigation
Jump to search
Notes
Here is the diary entry for Depeche Mode's official tour blog:
A thunderous east coast storm challenged us until show time. We seem to bring the gloomiest of climates everywhere we travel! As Fletch often says, "It wouldn't be a proper Depeche Mode gig without a little bit of rain."

After a bumpy ride to Providence, Rhode Island, we drove through the lush bay town and made our way into Mansfield, Massachusetts. Interesting fact: Mansfield's twin city is Nottinghamshire, England. The more you know.

Despite the weather and travel delay, we arrived in time for another great meet and greet with some lucky competition winners. With less that 1 hour and a half until stage time, we had to get ready pretty quickly - sadly, no usual game of foosball or cards before the gig.

The Boston crowd seemed in high spirits as well! Check out some photos from another excellent show at the Comcast Center.

See you in Atlantic City, New Jersey!

author: MM
Peter Bjorn and John were the support act.
According to a 2008 tour list uploaded by PeterToo, this concert was initially planned to take place on 2009-09-02.
NOTE: This concert was officially released by Live Here Now and at one point sold on the official depechemodelive.com, which is currently defunct. Concerts with LHN releases generally do not have audience recordings widely circulating, and as such there may not be a recording available on this website for this concert.
Trivia
Concert-goers remained in the audience for a period of time after "Personal Jesus", expecting the band to return to the stage to perform "Waiting For The Night". The final song of the set was presumably dropped to avoid fines for exceeding the Comcast Center's (now the Xfinity Center as of 2019) curfew. Mansfield, MA (where the venue is located) is reported to have considered fines for events which exceeded the venue's curfew by even two or three minutes. In a 2018 Patch article, town selectmen were reported to have narrowly voted 3-1 against imposing $1,523.17 USD in fines against event organizers for late-ending Chris Stapleton and Keith Urban concerts that went three minutes past the 11 p.m. curfew. Selectman Jess Aptowtiz, who voted in support of imposing fines for the three minute offense: "The last thing we want to do is pull the plug in the middle of a song but the band and Jeff Mann (Xfinity Center General Manager) know ahead of time. They're aware of it and Jeff won't be surprised to see us move forward on this. They have a clock on the stage, they know what time it is." In 2014, the selectmen voted 5-0 to fine the Xfinity Center for the events that exceeded the curfew, charging the Comcast Center $4,432.50 and $4,433.75 respectively for Motley Crüe and Drake vs. Lil' Wayne concerts, which exceeded the town curfew by 11 minutes.[1] Approved fines are entered into the town's general fund.[2]
Video
Set list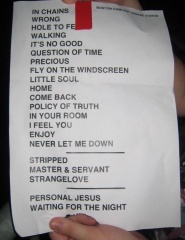 Set list info obtained from the Home forum.
References