2009-08-10 Key Arena, Seattle, WA, USA
From DM Live - the Depeche Mode live encyclopedia for the masses
Jump to navigation
Jump to search
Notes
Here is the diary entry for Depeche Mode's official tour blog:
Rain, rain, go away... It's only fitting that Seattle's gorgeous summer weather turn frightful on a Mode night.

We played the Key Arena in downtown Seattle to an energetic crowd. Lucky for all of us, it's an indoor venue so the weather was no threat to another amazing performance by our boys.

Seattle is surprisingly beautiful. I'm not implying that I've heard nothing but wretched things about it but I expected a little gloom to come from the city that birthed teen angst and grunge rock. Aside from the unpredictable climate (actually - it's predictably muggy), it's a lovely city and the band was thrilled to come back and visit their old city haunts.

Check out some photos from tonight's gig and some backstage shots. Yes - we have offices. It takes a lot of work to put on a great show but we would not have a great show if it weren't for the heart and soul of Depeche Mode.

author: MM
Peter Bjorn and John were the support act.
NOTE: This concert was officially released by Live Here Now and at one point sold on the official depechemodelive.com, which is currently defunct. Concerts with LHN releases generally do not have audience recordings widely circulating, and as such there may not be a recording available on this website for this concert.
Video
Set list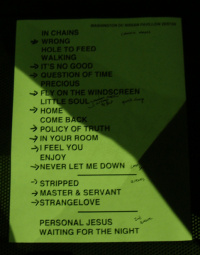 Set list info obtained from the Home forum.
Sources
Source 1 is jjs1972's very good audience recording.