2009-08-27 Red Rocks, Denver, CO, USA
From DM Live - the Depeche Mode live encyclopedia for the masses
Jump to navigation
Jump to search
Notes
According to Billboard, the attendance was 8,679 out of 8,726 people and they grossed $678,597.
Here is the diary entry for Depeche Mode's official tour blog:
Denver. Green, lush, liberal and clean. I think I may move here.

As I type, Depeche Mode are on stage at the wondrous Red Rocks Amphitheatre in Denver, Colorado. This was my first trip to the venue so I was not prepared for the picturesque and literal setting; a hidden venue nestled in in Denver's mountain side, tucked between Stage Rock, Creation Rock and Ship Rock - 3 large "red rocks" protruding from Denver's mountainside.

This was one of the most high-energy crowds I've ever seen. Every element was perfectly in place. Sound. Lighting. Enthusiastic audience. Weather. Setting. The night ended up being one of our most memorable performances.

Check out the photos to catch a glimpse of the spectacular scene and the underground backstage setting.

See you in Dallas!

author: MM
Peter Bjorn and John were the support act.
According to a 2008 tour list uploaded by PeterToo, this concert was initially planned to take place on 2009-08-12.
NOTE: This concert was officially released by Live Here Now and at one point sold on the official depechemodelive.com, which is currently defunct. Concerts with LHN releases generally do not have audience recordings widely circulating, and as such there may not be a recording available on this website for this concert.
Set list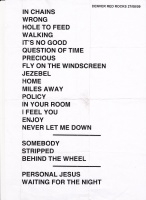 Set list info obtained from the Home forum.
Sources
Source 1 is Maudy's good audience recording.