2009-08-30 Woodlands Pavilion, Houston, TX, USA
From DM Live - the Depeche Mode live encyclopedia for the masses
Jump to navigation
Jump to search
Notes
Here is the diary entry for Depeche Mode's official tour blog:
The Lone Star State has been good to us. Strip steak. Barbeque. Great crowds. An unexpected lack of desert terrain (surprisingly, less than 10% of the state is desert). I suppose I fell victim to a romanticized idea of the second largest state in the U.S - but I was charmed, nonetheless.

The crowds in both Dallas and Houston were a boisterous bunch; an enthused audience of some of the most devoted Mode fans. Every lyric hung on the lips of almost every single person in each crowd. A strong sense of thrill permeated the audience at both venues (Superpages in Dallas and Woodlands Pavilion in Houston). It could have been the beating heat and humidity but I'm almost certain it was because they were watching anther jaw-dropping performance by our favorite boys.

Take a look at the photos for some backstage action and concert shots.

See you in Atlanta!

author: MM
Peter Bjorn and John were the support act.
NOTE: This concert was officially released by Live Here Now and at one point sold on the official depechemodelive.com, which is currently defunct. Concerts with LHN releases generally do not have audience recordings widely circulating, and as such there may not be a recording available on this website for this concert.
Set list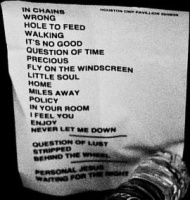 Set list info obtained from the Home forum.