2009-10-01 Arena V.F.G., Guadalajara, Mexico
From DM Live - the Depeche Mode live encyclopedia for the masses
Jump to navigation
Jump to search
Notes
This concert was added to the tour dates list on April 29th. According to Billboard, this concert was sold out (14,234 people), and had a gross of $1,253,820.
Here is the diary entry for Depeche Mode's official tour blog:
After a much-need 3-week break, we all met up once again in Guadalajara, Mexico. The night before our gig at the Arena V.F.G., we took in some sights and grabbed dinner at a lovely local restaurant in the city. After stuffing ourselves with tostadas, enchiladas, guacamole and quesadillas, we agreed that there wasn't a better way to kick of our Latin American tour!

The experience in Mexico has been warm and inviting; a culture comprised of hospitable and friendly people and some die-hard Mode fans - and 14,000 of them showed up tonight to see DM take the stage for the first time in Guadalajara. SOLD OUT.

Check out the photos for some behind-the-scenes captures and live shots.

See you in Mexico City!

author: MM
According to a 2008 tour list uploaded by PeterToo, this concert was initially planned to take place on 2009-10-07.
NOTE: This concert was officially released by Live Here Now and at one point sold on the official depechemodelive.com, which is currently defunct. Concerts with LHN releases generally do not have audience recordings widely circulating, and as such there may not be a recording available on this website for this concert.
Set list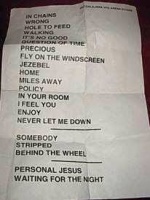 Set list info obtained from the Home forum.