2009-10-17 Personal Fest, Buenos Aires, Argentina
From DM Live - the Depeche Mode live encyclopedia for the masses
Jump to navigation
Jump to search
Notes
This concert was added to the tour dates list on April 29th 2009. According to Billboard, the attendance was 25,468 out of 35,000 people and they grossed $1,809,877. Go here for a radio interview with Andy Fletcher before the show.
Here is the diary entry for Depeche Mode's official tour blog:
Our last gig of the Latin American tour. I had been waiting anxiously to get to Buenos Aires. Well, I should point out that many of our Latin American stops were foreign and new to a number of people on the tour - including myself. San Diego is about as far south of Los Angeles (my hometown) as I've been. Making Mexico a Spring Break destination when in college was never a big interest of mine. I'm glad that I waited patiently because my experiences in Mexico with Depeche Mode - as well as Central and South America - have made for some incredibly fond memories.

With that said, however, Buenos Aires was a home away from home. I felt familiar with the city despite never having been. And the crowd at Club Ciudad? 32,000 devotees showed us some real Latin love - no better way to end another successful leg.

Check out the photos and live vicariously...

See you in Europe!

UPDATE (November 7th): As some of you have noticed, the images for this blog entry are not from the Buenos Aires show. Due to an error with the memory card of the digital camera being used, the wrong images were uploaded. Additionally, the proper images for this show were permanently lost. We would like to apologize for this error, and hope that you still enjoy the pictures for this blog entry.

author: MM
According to a 2008 tour list uploaded by PeterToo, this concert was initially planned to take place on 2009-10-18.
Video
Set list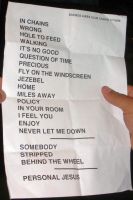 Set list info obtained from the Home forum.
Sources