2009-11-08 Schleyerhalle, Stuttgart, Germany
From DM Live - the Depeche Mode live encyclopedia for the masses
Jump to navigation
Jump to search
Notes
Here is the diary entry for Depeche Mode's official tour blog:
Another great night in Germany and, sadly, our last until Erfurt on November 28th. Our gigs in Germany have always been extraordinary. After spending much time, a sense of familiarity has developed; it's become a second home!

In the spirit of the season, the boys eagerly watched another football game - only this time it was Andy rooting for his beloved Chelsea. All work stopped (well, not entirely) and all eyes were glued to the television set in the chill out room. There were moments of silence and moments of outright enthusiasm, especially when Chelsea clinched a 1 - 0 win against Manchester United.

Fun random fact: Brazilian soccer legend Pele's real name is Edison Arantes do Nascimento. You can thank our guitar tech extraordinaire, Jez Webb, for that tidbit of information.

Check out the photos of the Mode's gig at Stuttgrat's Schleyerhalle and some behind-the-scenes football-watching down time.

See you in Geneva!

author: MM
Soulsavers were the support act.
Set list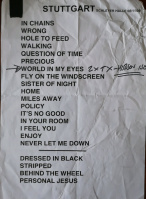 Set list info obtained from the Home forum.