2009-11-14 Lisbon Pavilion Atlantico, Lisbon, Portugal
From DM Live - the Depeche Mode live encyclopedia for the masses
Jump to navigation
Jump to search
Notes
This concert was added to Depeche Mode tour dates list on July 12th.
Here is the diary entry for Depeche Mode's official tour blog:
Oh, Lisbon. How happy I am that your show fell on my birthday. 24 years on this earth and I never imagined I would be celebrating it with the Mode. The team surprised me with a delicious chocolate cake backstage and a bit of a fun party after the gig.

17,000 people couldn't be wrong, can they? They partied like it was their birthday as well. It was a long overdue show after our unfortunate cancellation in June but it's safe to say that the wait was worth it. Dave and the band are in top form, getting stronger and more vivacious with each gig - even after 5 legs in on this Tour of the Universe!

Check out some backstage and live shots of the sold-out concert at the Pavilhao Atlantico.

See you in Madrid!

author: MM
Gomo was the support act.
Video
Set list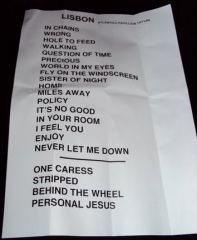 Set list info obtained from the Home forum.
Sources