2009-11-16 Palacio de los Deportes, Madrid, Spain
From DM Live - the Depeche Mode live encyclopedia for the masses
Jump to navigation
Jump to search
Notes
Here is the diary entry for Depeche Mode's official tour blog:
Madrid. My favorite city in Spain. It's often overshadowed by Barcelona's aesthetic beauty but Madrid has a remarkable charm; great nightlife, great food and - as I learned on Monday and Tuesday - great venues and crowds!!

The boys had a great time during their 2 consecutive shows in Madrid at the Palacio de Deportes de la Communidad de Madrid (The Sports Palace of the Communit of Madrid). A sports palace. It was a particularly sentimental 2-gig event considering that the venue was burned down in a 2001 fire. The fervor remained and the arena was built - better than before - between 2003 and 2005.

15,000 Madrilenos packed the new arena with sheer anticipation of the Mode's first visit to the city since the last tour. Check out the photos for some (dimly-lit) backstage images and concert shots.

See you in Barthelona!

author: MM
Soulsavers were the support act.
Set list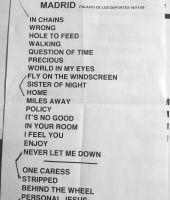 Set list info obtained from the Home forum.
Sources
Source 1 is fer101's good audience recording.