2009-11-28 Messehalle, Erfurt, Germany
From DM Live - the Depeche Mode live encyclopedia for the masses
Jump to navigation
Jump to search
Notes
This concert was added to the tour dates list on June 12th.
Here is the diary entry for Depeche Mode's official tour blog:
As the running joke in our camp goes, "we are back in the Fatherland."

The Messehalle was a great, compact venue that produced some of the best sounds I've ever heard. I managed to get on the mixing desk to take some great shots of our boys from a different perspective. At some point, our illustrious Head of Security brought out a young boy from the audience to join us on the side of the stage. Needless to say, he was thrilled!

Check out some new live shots of the Mode back in Germany, playing to some of their most devoted fans. It's a celebration...

See you in Nuremberg!

author: MM
Soulsavers were the support act.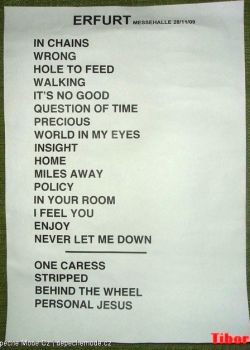 Set list
Set list info obtained from the Home forum.