2009-12-18 MEN, Manchester, England, UK
From DM Live - the Depeche Mode live encyclopedia for the masses
Jump to navigation
Jump to search
Notes
This concert was announced on March 24th, 2009.
Here is the diary entry for Depeche Mode's official tour blog:
At the recent O2 gigs in London the guest list was a beast - and the passes ran out - which lead to a huge tightening up operation in Manchester.

Certain coloured passes were withdrawn and the Security staff seemed a little confused as to who should be going where and doing what.

I brought the family (again) to this show, and their expectations were high as I had told them Manchester was always a great crowd, I hoped I was going to be right. The catering crew cooked up a fantastic Xmas dinner, and Xmas gifts were being exchanged - the atmosphere was great within the DM Camp, just one more show......

Fortunately I was more than right about Manchester - the crowd were amazing, and Dave's "glad we are out of London" comment was definatly right - they were the perfect audience.

As the show progressed it became clear that this was getting better and better, I haven't seen so many coloured balloons floating around during Policy Of Truth, and the "Home" chant was the best I can recall.

You guys need to get some balloons for the 2010 shows and get them floating around for "Policy Of Truth" - a bit of audience participation is always fun !!

The after show was a particular highlight for me, I have seen many of these over the years and always enjoyed them, but tonight's was special - a rather intimate affair hosted in the bands "chill out room" with my 2 kids playing Table football with Junior Gore and Junior Fletcher - nobody knew the score, as the rules kept changing - but it was fun to watch the events unfolding with Martin. Everyone was in high spirits - despite the freezing temperatures outside. After wishing everyone a Happy Xmas we left and I felt very glad to have gone to Manchester.

This show was the last on the tour for The Soulsavers, and I hope you will agree they have done a great job, and have gone down really well with the crowds. I think everyone deserves a break and all involved have worked so hard to bring the Tour to you - let's hope the 2010 shows are a half as good as the 2009 shows have been.

MM, Petertoo, Daniel and Big Pete wish you all a happy Xmas and fantastic New Year and look forward to bringing you the Tourblog in 2010.

Happy Christmas !!

author: Big Pete
Soulsavers were the support act.
NOTE: This concert was officially released by Live Here Now and at one point sold on the official depechemodelive.com, which is currently defunct. Concerts with LHN releases generally do not have audience recordings widely circulating, and as such there may not be a recording available on this website for this concert.
Set list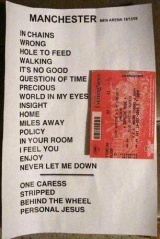 Set list info obtained from the Home forum.