2010-01-14 O2 Arena, Prague, Czech Republic
From DM Live - the Depeche Mode live encyclopedia for the masses
Jump to navigation
Jump to search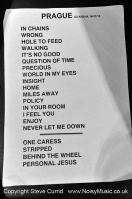 Notes
This concert was added to the tour dates list on June 12th.
Here is the diary entry for Depeche Mode's official tour blog:
Prague is one of my favorite cities. The last time we were here in June 2009, we played the Slavia Stadium. On Thursday, we returned to this beautiful city and 17,000 people came to the 02 Arena to welcome Depeche Mode back to the Czech Republic.

The city possesses the same beauty I remember, only this time it's landscape is covered in thick snow and everyone is bundled up in layers of clothing, trying to retain as much warmth as possible while walking the streets of Old Town. The Mode brought the heat, however, to the 02 Arena and I hope you feel it emanating through these backstage and live shots!

See you in Lievin!

author: mm
Some incorrect samples were played during the beginning of "Policy Of Truth".
Nitzer Ebb was the support act.
According to a 2008 tour list uploaded by PeterToo, this concert was initially planned to take place on 2010-01-08.
Set list
Set list info obtained from the Home forum.
Sources
Source 1 is a decent audience recording.