2010-01-23 Sportspaleis, Antwerp, Belgium
From DM Live - the Depeche Mode live encyclopedia for the masses
Jump to navigation
Jump to search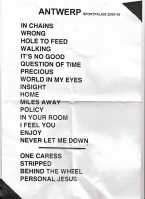 Notes
Observation made by Angelinda: "The funniest part was when the big guys right in front of me started humming 'Just Can't Get Enough' right before Stripped. Then Dave said "Tell you what, you guys need a new singer." Then after Stripped those guys started again, to which Dave lowered his head and put his head in his hands. But that made them only sing louder! So at one point Dave stood directly in from of them and laughingly said to them off-mic something like "Shut the fuck up already with that awful tune!"
Here is the diary entry for Depeche Mode's official tour blog:
Another exciting stop on Depeche Mode's Tour of the Universe. Aside from the fact that it is the diamond capital of Europe and that very much appeals all of us, Antwerp's 17,000-strong crowd was incredible!

The Sportspaleis was voted by Billboard magazine as one of the top 10 best venues in the world in 2007. Considering how exciting the show was, I don't think much has happened to challenge that standing.

Enjoy the shots!

author: MM
According to Billboard, the concert was sold out (16,789 people) and it grossed $1,065,690.
According to a 2008 tour list uploaded by PeterToo, this concert was initially planned to take place on 2010-01-22.
Nitzer Ebb was the support act.
Set list
Set list info obtained from the Home forum.
Sources
Source 1 is a good, but unfortunately lossy audience recording.