2010-01-25 Arena, Malmö, Sweden
From DM Live - the Depeche Mode live encyclopedia for the masses
Jump to navigation
Jump to search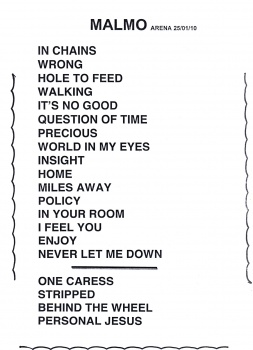 Notes
Here is the diary entry for Depeche Mode's official tour blog:
This was Depeche Mode's first ever show in Malmö, and their first in the southern part of Sweden in well over 20 years. Malmö Arena is a state of the art, brand-spanking-new arena that opened it's doors for the first time in late 2008. It's nice, neat with good facilities and more of McDonald's McSnack stands than you can shake a stick at. It's all very efficient, clean and impersonal.

To kill a bit of time during the day, myself and Big Pete went with Nitzer Ebb to a signing session in a local record store. The turn out was good, and the store managed to sell each and every copy of the new album, "Industrial Complex".

Later on, back at the arena, Depeche Mode put on an excellent show. The band had fun on stage, and about two thirds in, actually managed to have so much fun, that they made a complete mess of things during Policy Of Truth, and had to start all over again. Dave laughingly announced that he blamed Peter for it, but I get the feeling that call was perhaps a little rushed. ;)

The after show party was little more than a dozen people for pizzas, beers and a very exciting round of foosball, which saw Team Band (consisting of Gore and Gordeno) against Team Crew (consisting of head-of-security Michael and Big Pete). In an astonishing come back, Team Band, after trailing by two, ended up winning the game 7 to 3. I'd give you the blow-by-blow but I had my attention momentarily distracted... I blame the pizza.

author: peter
Nitzer Ebb was the support act.
Set list
Set list info obtained from the Home forum.
Sources
Ticket scan