2010-01-26 Scandinavium, Gothenburg, Sweden
From DM Live - the Depeche Mode live encyclopedia for the masses
Jump to navigation
Jump to search
Notes
Here is the diary entry for Depeche Mode's official tour blog:
Had a call from my mum this morning. Being essentially a home-town gig for me last night some of my family had come down for the show - some of them for their first Mode show ever. It's nice to hear what people who haven't seen the show before thinks of it. Fresh perspectives are always interesting. They all noticed different things, and each had their own highlights, but all of them really enjoyed it. And it's always nice to have a little bit of home-life come and join for a day, and break the day-to-day routines of life on the road.

Anyway, we left Malmö after the aforementioned breakfast and made our way to Göteborg. I love this part of Sweden - especially this time of year. Snow covered landscapes and varied terrain.

Rather than going straight to the venue as we usually do, we went and checked in to the hotel and walked from there to the venue, getting a little bit lost on the way. Freezing cold, but a bit of fresh air did us good after the long drive. When we got to the venue everything was already set up, and the pre-show calm had settled on the place. Antony (the front of house sound engineer) treated those assembled to a selection of Richard Cheese tracks. Having an über-cheesy lounge-crooner style cover of Metallica's Enter Sandman blasting over the PA in the virtually empty arena spawned a few confused/bemused looks from the local crew. Funny stuff.

Shortly after 6pm doors opened and you could tell almost instantly that the crowd was gonna be good tonight. Nitzer Ebb went down an absolute storm, and they later told me that this had been the best crowd for them so far on this tour. They did put on one helluva show, I must say.

As Depeche took the stage the place errupted, and the atmosphere was simply brilliant. About half way through the gig, I went to front of house to watch it from there, and get a better sense of the crowd further back. Everywhere people were out of their seats, dancing and clapping along. I loved it. Can't say I was surprised though. I've seen Mode at Scandinavium quite a few times, and it's always been a highlight of the tour - this time it was no different.

Next stop on Tour Of The Universe is Bergen - on the way there the crew is stopping for a couple of days of skiing and r'n'r. Me, I'm heading home for a bit - the weather permitting (a snow storm as settled over southern Sweden, making the drive back to Copenhagen increasingly perilous).

author: peter
Nitzer Ebb was the support act.
According to a 2008 tour list uploaded by PeterToo, this concert was initially planned to take place on 2010-01-27.
Set list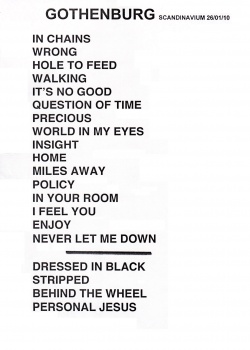 Set list info obtained from the Home forum.
Sources
Ticket