2010-02-04 SKK Arena, St. Petersburg, Russia
From DM Live - the Depeche Mode live encyclopedia for the masses
Jump to navigation
Jump to search
Notes
Here is the diary entry for Depeche Mode's official tour blog:
The journey to St. Petersburg was a long one. Being on tour we have to anticipate the occasional bumps in the road - technical difficulties, unexpected traffic delays, sound issues, hotel mix-ups, etc. But we never thought being grounded on a tarmac in Helsinki, getting ready to take off to St. Petersburg, would turn into a 2 1/2 hour window of worry. We were having some unforeseen mechanical problems with our plane. Luckily, we have a great team of professionals who were able to sort things out but even for them, the uncertainty was worrisome. Are we staying in Finland another night? Are we flying into St. Peterbsurg on show day, risking a delayed gig? On the Tour of the Universe, downtime like this, while stuck with every member of your band party, usually results in a neck-to-neck game of travel Scrabble (and it more often than not is between Martin and Pete, who take their Scrabble very, very seriously).

After a nervous couple of hours, we got the green light from our pilot and the plane took off to St. Petersburg! Arriving in St. Petersburg a little later than expected, we were in awe of the city's beauty at night. For some of us first-timers, coming to Russia was a particularly momentous visit.

What can I say about the Russian crowds, other than how AWESOME they are? It had been a while since we had seen such large crowds - 21,000 devotees packed the SKK arena and helped welcome the Mode and the entire crew to Russia in a very, very BIG way.

Enjoy the Flickr fan photos and see you in Moscow!

author: MM
Nitzer Ebb was the support act.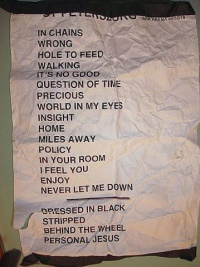 Set list
Set list info obtained from the Home forum.
Sources
Source 1 is a mediocre audience recording.