2010-02-22 Forum, Horsens, Denmark
From DM Live - the Depeche Mode live encyclopedia for the masses
Jump to navigation
Jump to search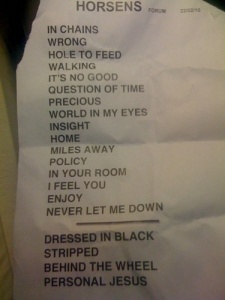 Notes
This concert was announced on August 2nd 2009.
Here is the diary entry for Depeche Mode's official tour blog:
With Daniel taking care of the last few London blogs I had some time on my hands. Time, which was well spent in the company of Nitzer Ebb who were playing 2 UK shows - York, and my home town Nottingham (where they needed a hand with their dry cleaning - I was only too happy to see to it that their freshly laundered stage gear was delivered in time for the show). Both shows were amazing - if you get the chance to go and see them at one of their own headliner shows, grab it!!

As for Depeche Mode, Daniel's already filled you all in on what went down at the Royal Albert Hall and O2. And now, after 2 great London shows, it is now Horsens turn to play hosts to Depeche Mode.

Horsens is a small town on the east coast of Jutland - and I think it's fair to say that there isn't much going on here normally. But today and tomorrow the Depeche Mode tour is in town.

The venue is great, like a school gym - very compact, the stage very low and is recessed in the back of the floor area.

It's an early show tonight, a 10pm curfew brings things forward by an hour. So at 7pm Nitzer Ebb took to the stage and got things started. The audience gave them a great reception, and seemed to be well up for the show.

As Depeche walked on the screams were deafening, the adrenaline was pumping and the roof was blown off the Horsens Forum.

Having seen a few of the more "intimate" shows i knew it would be great, but not this great, it was a phenomenal show, and the 4500 people strong crowd were amazing.

We had two band "jams" tonight - after "Home" and after "Dressed In Black", the second one being cut short by Dave saying "this sounds great, but we have a curfew tonight". Funny guy!

The aftershow was great, 40 people (including band members, family and crew) in a cordoned off hotel bar. It's not often that both crew and band are in the same hotel, so tonight's inpromptu party was a really great end to a perfect day, and myself and fellow blogger-Peter were last seen staggering up to our room at around 4am feeling slightly worse for wear.

I am really looking forward to the second show in Horsens - it's a very special venue.

author: big pete
According to a 2008 tour list uploaded by PeterToo, this concert was initially planned to take place on 2010-01-24.
Set list
Set list info obtained from the Home forum.
Sources
Source 1 is motr1912's very good audience recording.