2010-02-23 Forum, Horsens, Denmark
From DM Live - the Depeche Mode live encyclopedia for the masses
Jump to navigation
Jump to search
Notes
This concert was announced on August 2nd 2009.
Here is the diary entry for Depeche Mode's official tour blog:
Sitting back at the hotel after another breathtaking show. Horsens truly did impress me. Everything about these two gigs was perfect. The atmosphere was fantastic, the shows were great - very intimate affairs, with somewhere in the region of 4500 people in the crowd both nights.

The floor and lower tier seating was all general admission, meaning that you could go sit if/when you wanted to, and go dance and jump around on the floor if that was your thing. The upshot of that being that no one was forced to sit down so as to avoid blocking other people who had paid for their seat, and were insisting on actually sitting in it. The entire lower tier and floor was on their feet and moving, jumping, singing, clapping throughout. And despite the small crowd, they even put on a pretty good balloon show.

Highlights were plentiful, but one did stand out slightly more than others for me. After "Home", the crowd's chant was just stunning, prompting the band to do a very extended version of their post-Home jam. According to Dave, the best ever. Nothing wrong with that! ;)

After Horsens it's on to Dusseldorf, for an early set up, and then the final two. It's gonna be so weird!

author: peter
Nitzer Ebb was the support act.
Set list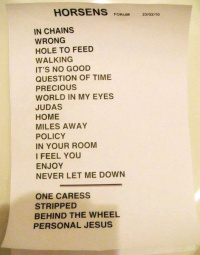 Set list info obtained from the Home forum.
Sources
Source 1 is motr1912's very good audience recording.