2017-04-26 "Special Thank You Show", Masonic Lodge at Hollywood Forever, Los Angeles, CA, USA
From DM Live - the Depeche Mode live encyclopedia for the masses
Jump to navigation
Jump to search
| | |
| --- | --- |
| | This concert page is missing a ticket stub. If you possess a ticket stub from this concert and wish to contribute a high quality scan or photograph, please feel free to add your ticket stub as an image file and embed it within this article, or contact us. |
Notes
A teaser announcement was put on la.depechemode.com on April 20, 2017. The next day, the site revealed: "As a thank you to fans in LA for supporting Spirit and helping create history, DM are hosting a special, exceptionally exclusive performance in Hollywood on Wednesday, April 26th. Fill out the form below to enter to win free admission for you and a guest. Venue details and show specifics will be provided to contest winners. Winners must provide their own travel, transport and accommodation." 50 winners will be selected in a random drawing.
Instagram user @dannycarrasco posted on his account on the day of the event a screenshot of the invitation, which reads: "The show will take place in the Masonic Lodge at Hollywood Forever Cemetery."
At the end of Barrel Of A Gun, Dave Gahan rapped the lyric 'Don't push me, 'cause I'm close to the edge / I'm trying not to lose my head' from Grandmaster Flash & The Furious Five's song 'The Message'.
Lana Del Rey and Martyn LeNoble were in attendance, as well as Mark Lanegan who told mxdwn in 2019:
"[Depeche Mode] are so fucking good and have so many great songs. [...] Last year or maybe the year before they came to LA and did a private show for fans at the Hollywood Forever Cemetery, which is basically a room that's 100, maybe 150 capacity. Tiny room. They invited me to go and I went. Dude, they're like the most badass club band, too. I'd never seen them play on a small stage. I wondered how's that going to be? You're so used to seeing them play these huge 20,000 seat arenas. Dude, it was so fucking bad ass. It all comes down to Dave, because he's an amazing front man. It doesn't matter whether he's playing an arena or in front of 100 people, he's fucking the shit. He's one of those classic frontmen. When I first saw him I was like, 'Fuck man. [...] Wouldn't be great to be a real front man like Dave?' I said, 'Fuck Dave, I wish I had turned into a front man like you.' He goes, 'Dude, I wish the fuck I had done it like you do it so I don't have to run around five miles every night.' He does. It's physical. He's the only guy, I mean God bless the rest of those dudes, he's their focal point. He's out to the end of the runway and fucking all over the stage. He's a year older than me. I'm not a fucking spring chicken. He's in great shape and his voice is getting better with age, that's also something that doesn't often happen."
Set list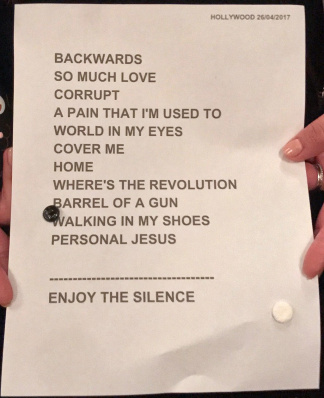 Intro (Cover Me (Alt Out))
Home (*) (full-band)
Set list info obtained from the Home forum.