2018-01-29 Mediolanum Forum, Milan, Italy
From DM Live - the Depeche Mode live encyclopedia for the masses
Jump to navigation
Jump to search
Notes
This date was announced on July 3, 2017.
According to Billboard, this show and the previous show were sold out (21,750 people total) and the total gross sale was $1,701,295. Rich Machin of Soulsavers was in attendance.
Support act: EMA
Set list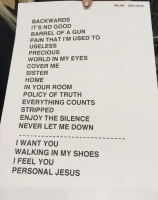 Set list info obtained from the Home forum.
Ticket scan