2023-07-12 Stadio Olimpico, Rome, Italy
From DM Live - the Depeche Mode live encyclopedia for the masses
Jump to navigation
Jump to search
Notes
This concert was announced on October 4, 2022 via depechemode.com's tour page.
HÆLOS was the support act. Actress Juliette Lewis was in attendance.
Video
YouTube user llalesa2000 has shared a superb audio recording of It's No Good from this concert, featuring flawless soundboard-quality sound.
Set list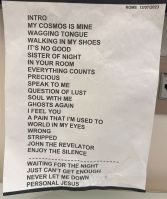 (*) indicates lead vocals by Martin Gore
Set list info obtained from the Home forum.
Ticket