1998-11-13 Miami Arena, Miami, FL, USA/Source 1
From DM Live - the Depeche Mode live encyclopedia for the masses
Jump to navigation
Jump to search
Notes
A very good audience recording. Not much crowd noise around the taper.
Notes from Ryan who performed this transfer:
I've been pestering JD to let me transfer some of his DAT masters for almost a decade. Late last year, he sent me a HUGE box of DAT tapes. I am finally starting to sift through them and make headway on them. This is one of the tapes I was really looking forward to transferring. A really good tape. I did two transfers of this on two different DAT decks. On a Tascam DA-20 and then a TCD-D8. The first pass had some static in it, so I did another one on the D8 and it was better. The static that is on the tape is not because of the deck, it is from the tape itself. But I was able to remove the 5-6 bits of static that were on the original release on the wiki. Very pleased with that. This is definitely the definitive version of the recording and all other copies can be scrapped. No EQ'ing done to this tape. Just a raw file, but a really good recording from the Singles Tour!
A right-shot video recording from this concert is also available as Source 2.
Listen
You can listen to this entire recording below.
Track list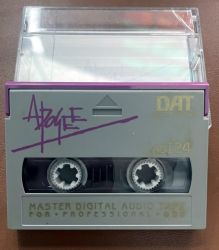 Lineage
Sony ECM-44B microphones + Sony TCD-D8 DAT recorder (16/48) -> Apogee AD124 Master DAT -> Sony TCD-D8 -> 7-Pin -> Digi In -> Adobe Audition -> WAV (normalize to -0.1 db, remove static) -> Fission (track) -> xACT -> FLAC 16-bit 48khz
Taper: JD
Location: Side of the stage in an almost empty section
Transfer: RyanJ
DAT photos and auCDtectTaskManager log included
Download