1987-10-22 Pabellon De Real Madrid, Madrid, Spain/Source 1
From DM Live - the Depeche Mode live encyclopedia for the masses
Jump to navigation
Jump to search
Notes
A very good audience recording of the first concert of the 1987-1988 Music For The Masses Tour. The left channel is quieter than the right, probably as a result of Elly's taping location; some tracks have the stereo channels more or less balanced, however. The crowd is very excited and lively, and this recording depicts that from the second that Pimpf begins.
Pimpf is missing the about 40 seconds from the beginning, but otherwise this is a complete recording. Note that the extended 12" version of People Are People was performed during this concert, with a lengthier break in the middle of the song. This version would be played up through the seventh gig of the tour (1987-10-30 Milan); all later performances of the song during this tour more closely resemble the shorter single version of the track.
Many thanks to Falko for generously lending me another batch of low-generation tapes to transfer.
Listen
You can listen to this entire recording below.
Track list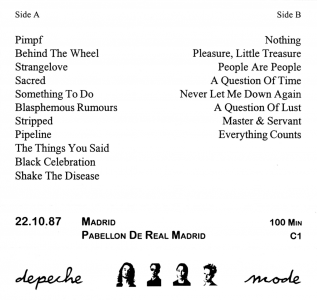 Lineage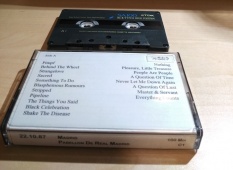 Incomplete audience recording
Sony WM-D6C + unknown mics -> unknown master cassette(s) -> unknown deck(s) used for copy -> first generation TDK SA100 high position cassette, 1990 - 1991 stock -> Nakamichi Dragon cassette deck, serviced and upgraded (details) -> Blue Jeans Cable LC-1 8-foot RCA cable -> Creative Sound Blaster ZxR (RCA Line In) -> Adobe Audition CC 2015 (32-bit / 88.2 khz) -> slowed down 2.5%, normalized to -0.1dB and any DC bias removed -> WAV (32/88.2) -> tracked using Audacity 2.1.2 -> WAV (32/88.2) tracks -> FLAC 16-bit 44.1khz using FLAC 1.3.1 64-bit (level 8 compression) and foobar2000 v1.3.10 with its Resampler (SoX) component v0.8.3 (best quality), dithering enabled
Generation: first
Taper: Elly Apfel
Transfer: DMLiveWiki
Cassette tape photos, tape inlay scan, and auCDtectTaskManager log included
Download