1990-08-04 Dodgers Stadium, Los Angeles, CA, USA
From DM Live - the Depeche Mode live encyclopedia for the masses
Jump to navigation
Jump to search
Notes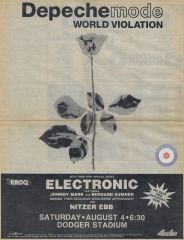 The first of two nights at Dodger's Stadium during the World Violation Tour. A very good soundboard recording is available below. You may view 90 second video snippets of this concert at the depechemode.com archives.
According to Associated Press on April 11th 1990, this concert and the consecutive concert almost did not go ahead due to the Wherehouse signing session incident:
"[...] The group was expected to end the tour three months later with a gig or two at L.A.'s Dodger Stadium. However, the negotiations were abruptly cancelled following a Depeche Mode personal appearance at L.A.'s Wherehouse Records, where such a large army of fans turned out that extra police had to be called in to handle the crowds."
According to the LA Times, the ticket sales of the August 4th show went on sale on June 2nd and were sold out within an hour. A consecutive show was announced on June 5th. According to Billboard, DM grossed $2,408,750 and sold 96,350 tickets (sold out), for both Dodger shows.
Nitzer Ebb and Electronic were the support acts. According to the October 1990 issue of Vox magazine, DM first asked Jesus And Mary Chain to be the support act but the LA authorities didn't want that due to their band name, so they invited Electronic instead. This was their first gig as a band and they had not even finished writing some songs that they performed that night. Bernard Sumner of Electronic recalled in Uncut magazine, 2001: "I got completely and utterly fucked up [with booze and drugs] on the first night. There was a shower in the dressing room and I just filled it with puke. It was the worst fucking moment of my life." However, Johnny Marr remembers the event more fondly, recalling in 2020: "I was surprised at how well we were received. It was a very new thing we were doing. The album hadn't come out yet so people only knew "Getting Away With It" and that went down well as I remember. [...] I saw a little bit of [Depeche Mode's] set. I wanted to see more but it was a zoo backstage when we came off, a zoo and a circus."
Set list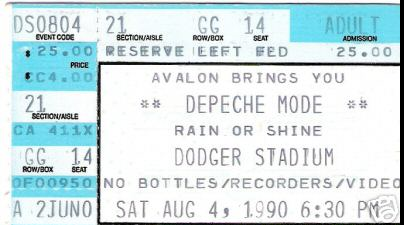 Sources