2006-05-10 Starlight Amphitheater, Kansas City, MO, USA
From DM Live - the Depeche Mode live encyclopedia for the masses
Jump to navigation
Jump to search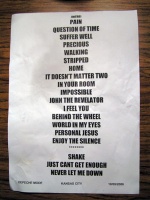 Notes
After Martin Gore sang his two songs in the middle of the set, Dave Gahan didn't return to the stage. The band started playing 'In Your Room', but stopped it after a few seconds. Gore went on to play several more songs solo. This concert was recorded by Live Here Now but is unreleased to date. An anonymous poster on the Home forum informed Depeche Mode Live Wiki (edited for clarity):
I know LHN recorded this, because I went up to the mixing desk and [personally asked an audio engineer] if the [recording] would be released, [to] which he [replied] "I hope so."
The only recording currently circulating is a 17 minute 48 second video of Martin's set, shot with a portable camera.
This concert was also the last time 'Damaged People' was played live — an ironic final performance, as it was not initially included in the official planned set list for this date.
She Wants Revenge was the support act.
Setlist
Intro
Home (*)
Leave In Silence (*)
Somebody (*)
Damaged People (*)
Sources
Source 1 is Oklamode's camera microphone's mono audience recording of the songs Martin performs after In Your Room; quality is not good, but listenable. It is sourced from Source 2 below.
Source 2 is Oklamode's shaky, but watchable audience video recording of the songs Martin performs after In Your Room.