2009-06-25 Slavia Stadium, Prague, Czech Republic
From DM Live - the Depeche Mode live encyclopedia for the masses
Jump to navigation
Jump to search
Notes
Here is the diary entry for Depeche Mode's official tour blog:
After a day off in Prague, the band took the stage last night at Eden Stadium (or Slavia Stadium or Tippentot-something Arena, depending on who you ask), for a thoroughly enjoyable gig. The venue was a fairly new, relatively intimate stadium. Felt more like an indoor arena, except without a roof. A roof would have been nice from time to time though, as sun and blue sky gave way to rain and thunder at regular intervals during the day. It wasn't too bad during the show though.

The venue was in a residential area, so it was an early show night. There's something slightly odd about seeing the show in daylight. Not that it seemed to lessen the experience for anyone - the band was on fire and into it, and the crowd was great.

Next stop Paris... for the tour at least. Everyone seems dead excited to go there, as it's gonna be the world tour equivalent of "bring your kids to work day". Not for me though... I'm heading home for a few days, before the tour hits Copenhagen.

author: Peter
Motor was the support act.
NOTE: This concert was officially released by Live Here Now and at one point sold on the official depechemodelive.com, which is currently defunct. Concerts with LHN releases generally do not have audience recordings widely circulating, and as such there may not be a recording available on this website for this concert.
Video
Set list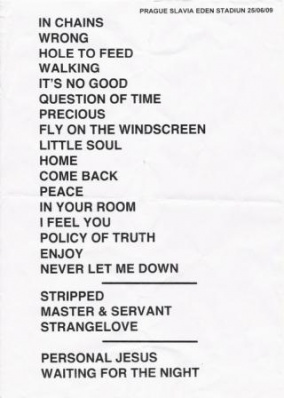 Set list info obtained from the Home forum.
Ticket