2009-08-16 Hollywood Bowl, Los Angeles, CA, USA
From DM Live - the Depeche Mode live encyclopedia for the masses
Jump to navigation
Jump to search
Notes
According to a 2008 tour list uploaded by PeterToo, this concert was initially planned to take place on 2009-08-02.
According to Billboard, this concert and 2009-08-17 Hollywood Bowl, Los Angeles, CA, USA together had 34,919 out of 35,128 people and together they grossed $2,771,265.
Here is the diary entry for Depeche Mode's official tour blog:
If there was any concern over Dave's health, it was gone as soon as soundcheck started. Loud, deep, and clear. Highlights of the soundcheck included Mr Gordeno playing a bit of Hava Nagila for Mr Kessler (to the beat of Behind The Wheel, no less), and then Dave getting on the drums, and having a go...as a joke. Quite funny. As for the actual show, a solid set from the boys.

author: Brat
Peter Bjorn and John were the support act. Tony Kanal from No Doubt was in attendance.
Set list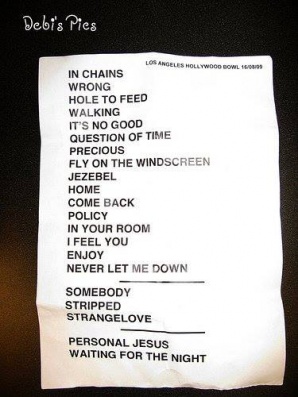 Set list info obtained from the Home forum.