2009-08-22 Pearl Concert Theater at Palms Casino Resort, Las Vegas, NV, USA
From DM Live - the Depeche Mode live encyclopedia for the masses
Jump to navigation
Jump to search
Notes
Here is the diary entry for Depeche Mode's official tour blog:
Vegas, Baby!

As one of the smallest venues on the Tour Of The Universe, the Vegas show was also one of the more eagerly anticipated shows by the fans, myself included. The boys did not disappoint.

From the moment the fans rushed onto the floor, to the end of the show where Dave - already leaving the stage - walked back to the microphone to say the infamous "see you next time", the Vegas show was filled with non-stop energy, sweat and screams.

Be sure to check out the pictures!

author: Brat
During Strangelove, Dave makes a "hee hee!" sound, reminiscent of Michael Jackson (who had died just two months earlier). DM fan and attendee Chris Watkins says that he saw Michael's children and Rebbie Jackson and an entourage from one of the VIP boxes in the venue during this night.
Peter Bjorn and John were the support act.
According to a 2008 tour list uploaded by PeterToo, this concert was initially planned to take place on 2009-08-09.
Official video blog (footage of 'Strangelove'):
NOTE: This concert was officially released by Live Here Now and at one point sold on the official depechemodelive.com, which is currently defunct. Concerts with LHN releases generally do not have audience recordings widely circulating, and as such there may not be a recording available on this website for this concert.
Video
Set list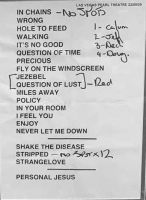 Set list info obtained from the Home forum.