2009-09-05 Bank Atlantic Center, Ft. Lauderdale, FL, USA
From DM Live - the Depeche Mode live encyclopedia for the masses
Jump to navigation
Jump to search
Notes
According to Billboard, the attendance was 12,665 out of 14,537 people and they grossed $795,039.
Here is the diary entry for Depeche Mode's official tour blog:
Our last 2 shows came and went quickly. Maybe it was a result of having been on the road for weeks at a time, getting close to the end, and dreaming of how it will feel to sleep in your own bed again. Another reason may be due to the fact the the gigs in Tampa and Ft. Lauderdale were 2 of the best; despite the tumultuous weather, the unforgiving thunder, and plane difficulties that resulted in arriving (very) late to the venue in Ft. Lauderdale, the US leg could not have ended on a higher note!

The Ford Amphitheatre in Tampa and the Bank Atlantic Center in Ft. Lauderdale were filled to the brim with enthusiastic crowds, anxious to catch one of the last couple of gigs on the Mode's US leg of the tour. And what better way to end a leg than in sunny Florida?

Check out some photos of our Floridian trip!

See you in....Mexico!

author: MM
Peter Bjorn and John were the support act.
According to a 2008 tour list uploaded by PeterToo, a concert was initially planned in the nearby West Palm Beach (presumably at Cruzan Amphitheatre), taking place on 2009-08-22.
NOTE: This concert was officially released by Live Here Now and at one point sold on the official depechemodelive.com, which is currently defunct. Concerts with LHN releases generally do not have audience recordings widely circulating, and as such there may not be a recording available on this website for this concert.
Set list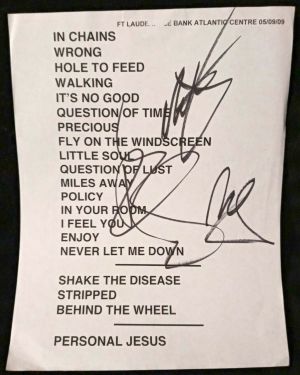 Set list info obtained from the Home forum.