2009-11-21 Palau St Jordi, Barcelona, Spain
From DM Live - the Depeche Mode live encyclopedia for the masses
Jump to navigation
Jump to search
Notes
This concert was added to the tour dates list on June 12th. It was a recorded for a live DVD. According to Billboard, the total attendance of this concert and the previous concert was 34,193 people.
Here is the diary entry for Depeche Mode's official tour blog:
After last nights twitterfest (and amazing show) I enjoyed a relatively quiet day in wonderful Barcelona. Slept in, late breakfast, a stroll on the beach with Mr. and Mrs. Big Pete, bit of lunch, some shopping, then back to the venue.

For some reason something's just always got in the way of me watching all of Soulsavers' set, but tonight I finally got to. Really really good, and extremely well received by the Spanish audience. I loved it. A couple of photos attached here.

Depeche Mode's show was a cracker - from start to finish the band rocked very hard. Dave was on fire, like I have never seen him - his trips down the catwalk made the place explode - the audience were feeding off him and vice versa. Martin sang his socks off (not literally - both socks and shoes stayed on throughout the show), and Fletch was busy twiddling knobs and getting the crowd going.

The "I Feel You" head banging session was a highlight for me, but then again I am a sucker for those heavy beats. "Policy Of Truth" got a bit of a re-vamping with Christian playing it differently than normal - it was a subtle change, but it really beefed up the track, making it another highlight for me. The "Home" chant ended up being conducted by Dave with his pretend baton, and he really got the crowd going. It kept getting faster and faster until he was just stood there laughing and the crowd had to give up trying to keep the pace. Very funny!

In general, they gave the setlist a bit of a shuffle tonight, leaving "World In My Eyes" out, moving "It's No Good" to a different spot, including "Sister Of Night", doing "Dressed In Black" instead of "One Caress", and "Come Back" instead of "Miles Away" and bringing back "Waiting For The Night" for one night only. Quite interesting seeing two such different setlists back to back.

During "Fly..." I snuck out to the mobile recording studio and had a sneak peak at what was being recorded - it looked and sounded stunning already, and that was "just" the live mix. It was good seeing some of the familiar faces from LiveHereNow again - I've missed them being at the recent shows. They'd brought with them quite a different setup to I've seen before. I'll put up a picture or two from the mobile studio with this blog entry.

After the show we headed up to the backstage hospitality area for a night cap. When Fletch walked in to the room he received a round of applause, something I have never seen before. It was quite clear tonight's show had been extraordinary, and thankfully there was a camera crew there to capture it. At the aftershow iPod battle, Bamonte was once more the fastest man on the proverbial trigger, hooking up his Apple gadget to the stereo, kicking things off with another set filled to the rim with electro beats. His efforts, however, were thwarted by one Mr. Gore, who's iPod proved to contain more reggae music than even the most hardcore rastafari would ever dare shake a stick at.

Till next time!

author: peter
Soulsavers were the support act.
Set list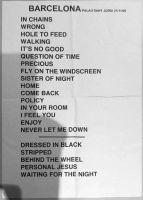 Set list info obtained from the Home forum.
Sources
Source 1 is fer101's good audience recording.