2018-03-11 Foro Sol, Mexico City, Mexico
From DM Live - the Depeche Mode live encyclopedia for the masses
Jump to navigation
Jump to search
| | |
| --- | --- |
| | This concert page is missing a ticket stub. If you possess a ticket stub from this concert and wish to contribute a high quality scan or photograph, please feel free to add your ticket stub as an image file and embed it within this article, or contact us. |
Notes
Support act: Rey Pila.
Michael Lyons, family member of Depeche Mode, reviewed this concert here and revealed:
"[...] Looking up to the back of the stadium, where normally you'd see some empty seats, was an indication that while the official capacity may have been 65,000 with every seat taken (and I mean every seat, even high up at the back) it was clear the promoter had grossly oversold this show. Some DM staff we spoke to suggested it looked more like 80,000 [...]. While the Mexican crowd did not let us down, the vocals were clearly not as crystal as what they could be. [...] Turns out [this concert] was plagued with technical difficulties due to poor generator power, something that was corrected for the second gig in Mexico. [...] It was a superb concert and feedback from the band afterwards confirmed they were delighted with it and all was good."
Set list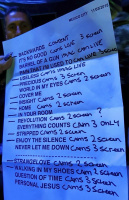 Set list info obtained from the Home forum.