2018-03-24 Estadio Unico de la Plata, Buenos Aires, Argentina
From DM Live - the Depeche Mode live encyclopedia for the masses
Jump to navigation
Jump to search
Notes
The main screen stopped working after 'It's No Good' had been played. Depeche Mode posted an apology on their Facebook page the next day, but that post is only visible to people logged into Facebook whose IP addresses are located in Argentina:
To all of the Argentinian fans:

We want to sincerely apologize to everyone who came to last night's show in Buenos Aires for the technical issues that resulted in the loss of the video screens for the second part of the night. We always aim to put on the best show possible, including bringing a thoughtful and meaningful video show to complement our music, so we fully understand and share your frustration.

Part way through the show a technical fault arose which made it dangerous to continue using the video equipment. Our number one priority is always the health and safety of everyone in the venue, including our touring crew, the local crew, and everyone on stage. To this end, we had to power down the video screens to avoid endangering anyone's safety. When touring in South America we rely on locally-hired light, video and sound equipment to supplement the gear and instruments that we're able to bring with us from show to show, and much to our disappointment as well as yours, the local video equipment unexpectedly failed.

Although the screens tailed, the lighting and sound equipment were unaffected, the energy from all of the Argentinian fans was incredible, and we didn't want to let down everyone who had come out to La Plata for the show, so we decided to continue with the show. The show could go on, and we renewed our commitment to giving the best show possible.

The Argentinian fans are unrivaled and we so appreciate your endless energy and singing, as well as your understanding, which made last night one of the best shows on our tour.
There also seemed to be an issue with the T-shirt gun during 'Never Let Me Down Again', since Dave went towards the front of the catwalk to pick it up from the crew member standing there, but the crew member must have said or signalled something to Dave, and then Dave walked away.
Buenos Aires granted all three members of Depeche Mode honorary citizenship.
According to Billboard, this show was sold out (47,214 people) and the gross sale was $4,095,289.
Support act: Juana Molina.
Set list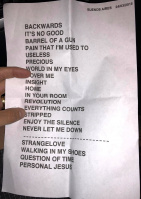 Set list info obtained from the Home forum.
Ticket