2018-05-22 Honda Center, Anaheim, CA, USA
From DM Live - the Depeche Mode live encyclopedia for the masses
Jump to navigation
Jump to search
Notes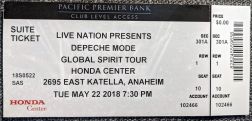 This concert was announced on February 8th, 2018.
Musician Tony Kanal (of the band No Doubt) and Talinda Bennington-Friedman (widow of late musician Chester Bennington) were in attendance.
This concert had the first performance of The Things You Said in almost 30 years; it had not been played since the '101' concert at 1988-06-18 Rose Bowl, Pasadena, CA, USA.
Support act: Black Rebel Motorcycle Club.
Video
Set list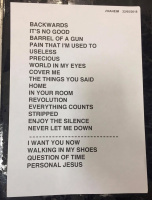 Set list info obtained from the Home forum.