2023-10-12 Kaseya Center, Miami, FL, USA/Source 1
From DM Live - the Depeche Mode live encyclopedia for the masses
Jump to navigation
Jump to search
Notes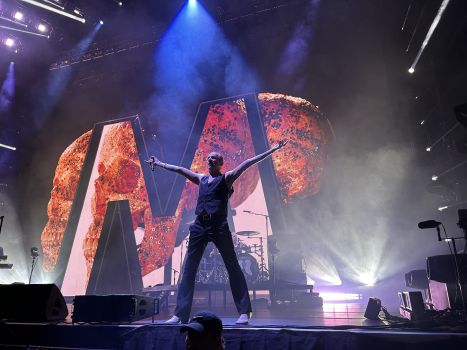 A very good audience recording. Bass is slightly distorted depending on the song and there can be a little bit of phasing when I turned my head during the concert. There was also a fairly loud screamer nearby but fortunately he kept it limited to between songs and occasionally during a song while Dave was not singing. Other than that, the recording barely has any crowd noise.
Both the original resolution 24-bit, 96kHz file set and a downsampled 16-bit, 44.1kHz file set are available to download.
After Wrong, Dave commented about some fans in the audience:
"Oh, you're wearing matching shirts over here. See that? They must have called each other before the show. 'Oh we're gonna wear black, right?' You wanted to wear black? What a surprise."
At the beginning of the outro of Stripped, Dave erroneously sang "let me hear you stripped". Dave also erroneously sang "if for blindness you substitute blindness" for the penultimate line of Condemnation.
I cannot give enough thanks to Mike (mth2k) for generously gifting me a front row ticket for both Orlando and Miami, and also allowing my two friends who attended Miami with me to join us at the front row using his spare tickets which did not end up selling. These concerts were the experience of a lifetime! Thanks also go to Austin for helping with the equipment and Rudy for buying us dinner.
Listen
You can listen to this entire recording below.
Track list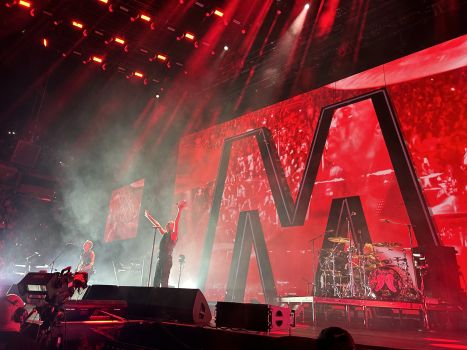 Lineage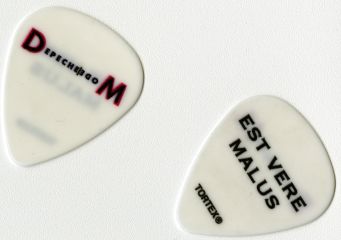 Sound Professionals SP-CMC-2 (Audio Technica AT831) cardioid microphones -> Sound Professionals SP-SPSB-4 battery box (fresh A23 battery measured at 12.6 volts) -> Tascam DR-2d (line-in at "100" input level, 24/96) -> 16GB SanDisk Extreme SD card -> WAV 24/96 files -> WAV files merged -> in Audacity 3.3.3: stereo channels phase aligned, slight EQ to reduce overpowering bass, normalized to -0.1dB and any DC offset removed, fade in and out, track splits -> WAV (24/96) tracks -> FLAC level 8 (24/96) using foobar2000 v2.0 and FLAC 1.4.3 64-bit

The 16/44 version has the following additional lineage: downsampled to FLAC level 8 (16/44) using foobar2000 v2.0, FLAC 1.4.3 64-bit, and foobar2000's Resampler (RetroArch) component at "Highest" quality, dithering enabled

Taper: DMLiveWiki
Taping location: Section FL1, Row 1, Seat 10 (see photo for approximate taping location)
auCDtectTaskManager log, two taping location photos, and photo of two guitar picks (courtesy of mth2k) included
Download