2023-10-28 Madison Square Garden, New York, NY, USA/Source 1
From DM Live - the Depeche Mode live encyclopedia for the masses
Jump to navigation
Jump to search
Notes
A very good audience recording. Both the original resolution 24-bit, 48khz fileset and a 16-bit, 44.1khz downsampled version are available to download. Here are the taper's notes:
This was much more enjoyable to me than last April. I was much closer to the stage with no screaming kids around me, and I got Black Celebration! I'm not sure if people are still downloading this tour, but you'll get a tour debut in Dressed in Black and a pretty good audience recording with natural crowd noise and no antics. Dave seemed particularly emotional at the end of World in My Eyes on this one. Maybe it's because I was in a lower section without a bad crowd around me, but the energy was amazing all night.
Listen
You can listen to this entire recording below.
Track list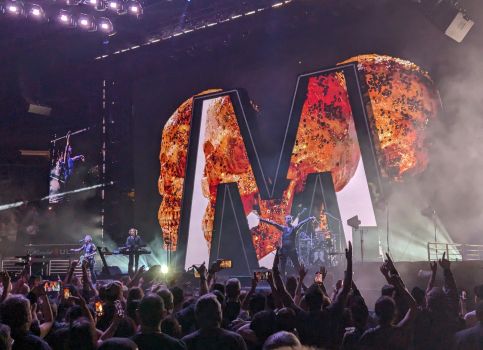 Lineage
DPA SMK4061 -> DPA d:vice MMA-A (+3dB, no HPF) -> Apogee MetaRecorder (24/48) -> iPhone 13 Pro -> Adobe Audition -> iZotope Ozone 10 (EQ, MB compressor, maximizer, dither/resample 16/44.1) -> TLH (FLAC 8)
Taper: j.mart
Taping location photo, original info file, and auCDtectTaskManager log included
Download